Sandra O'Brien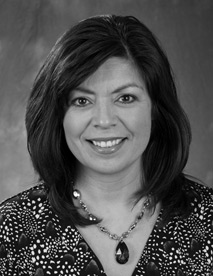 Elected November 2012
Term of Office: January 1, 2013 - December 31, 2020
Democrat
fj5619@wayne.edu
Sandra Hughes O'Brien was elected to serve an eight-year term on Wayne State's Board of Governors on Nov. 6, 2012. She is the first person of Latino heritage to be elected statewide to the Wayne State University Board of Governors. Sandy is a passionate public servant devoted to helping traditionally underrepresented students in every way possible.
Since taking office, she has fought and helped implement a tuition equity policy for undocumented Michigan students; worked to improve admissions standards to achieve a more representative student body, and successfully helped work to hire a new university president who would be fully committed to diversity and WSU's historic urban mission.
Sandy is a frequent speaker and panelist at conferences related to education, empowerment and inclusion. She serves on numerous community boards and committees.
Beyond that, she has another great love: Sports. Sandy can often be found at University sporting events, cheering on the Warriors. When not at the university or the ballpark, Sandy is an attorney, currently working as the Deputy County Clerk and Register of Deeds in Oakland County. She is an active member of the Michigan Bar and several professional organizations and speaks frequently on the topic of women and minorities in law careers.
She is a self-proclaimed "political junkie" who currently serves as the Treasurer for the Michigan Democratic Party. She is a graduate of the Detroit College of Law at Michigan State University (J.D., cum laude, 1998) and received her undergraduate degree from Grand Valley State University.
Sandy grew up in West Michigan and now resides in Northville with her husband, Barrie, their three children, Faelan, Fiona, and Rory; and their dog, Roxie.